IN a dramatic unravelling of events in Liverpool's pre-Premier League title celebrations encounter with Chelsea at Anfield on Wednesday, a fuming Frank Lampard told Jurgen Klopp to "f**k off" amid an altercation on the touchline.
Read: WATCH – 'F**king w*nkers!' – Reds star gives Man U the finger
The Chelsea boss dug into Klopp's right-hand man, Pep Lijnders, on the back of disgruntled with the referee's decision to give a foul for Mateo Kovacic's tackle on Sadio Mane in the first half. Defender Trent Alexander-Arnold, after being called on to take the spot-kick, curled it in to make it 2-0. Lampard, however, was already worked up and fuming at this point over the fourth official, before clawing into Lijnders and in the end, Klopp.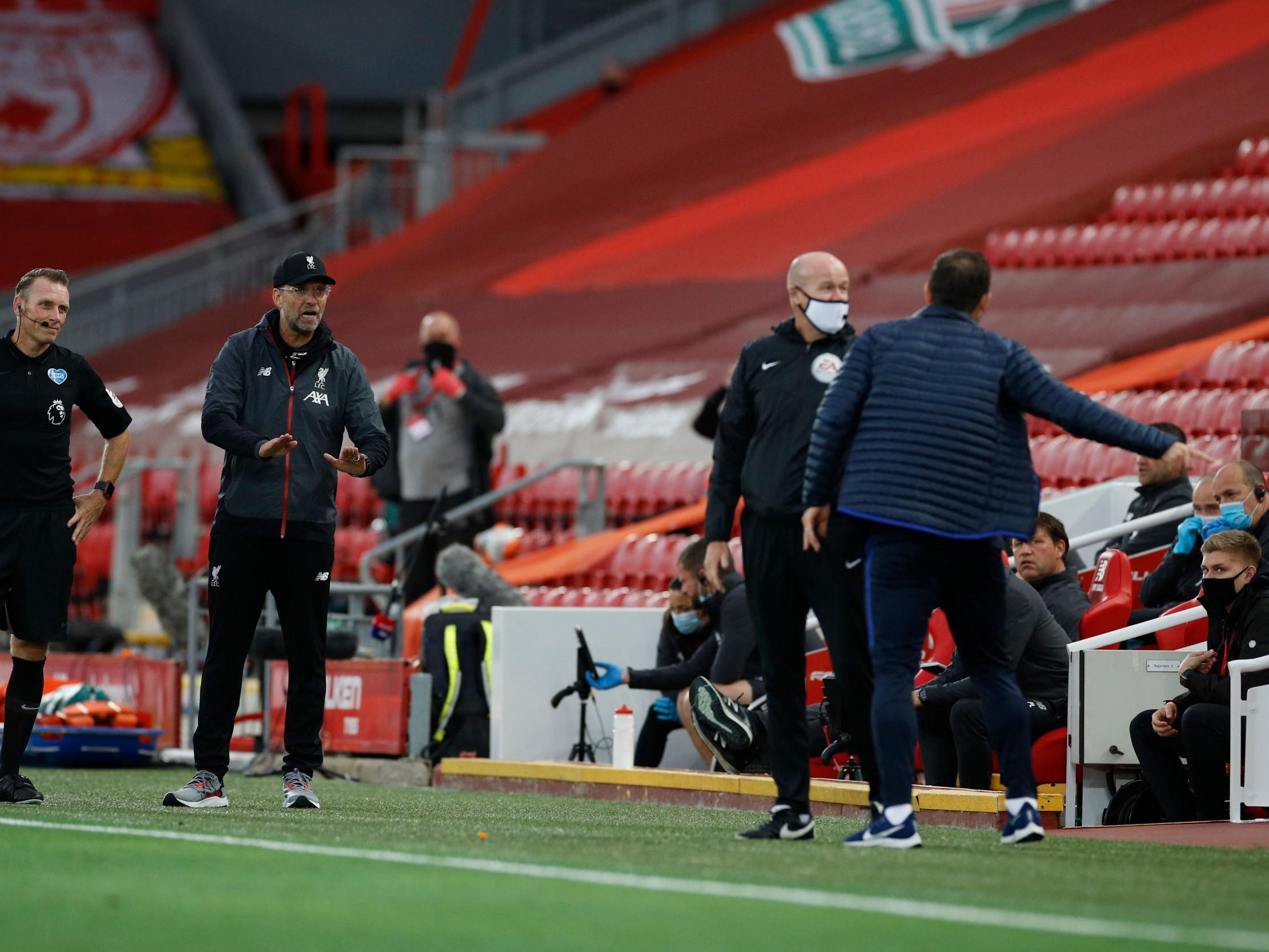 The former Chelsea player turned manager of the same club, could be seen inciting an explicit rant, which to the smug amusement of football fans far and wide, could be heard quite audibly. "How is that a foul? There's no foul there," howled Lampard to the fourth official, Lee Mason. He then turned to Lijnders and barked "Sit down then!". Klopp, thereafter, got involved and asked his opposite number to calm down.
Not appreciative of Klopp's intervention, Chelsea's record goalscorer responded: "If he's going off at me I'll f***ing say something, It's not a foul, I'm not asking you!" But Lampard was not finished in his business with the German. He added: "You can f*** off and all. You think you can give it the big one, f*** off."
Tensions would finally simmer before the game played out to an eventual eight-goal thriller; going the way of Liverpool in a perfect curtain-raiser before the club, dominant all season-long, were presented with their trophy. Lampard, calm by the time he did his post-match interview, still made a point of telling Liverpool not to get arrogant.
"Fair play to Liverpool Football Club, they've won the league, but also don't get too arrogant with it. That was my point, but it's done. In match play, you can get emotional and that was it," Lampard told Sky Sports.
Let us know what you make of Lampard's touchline rant in the comments section below.