Mamelodi Sundowns head coach Pitso Mosimane opened up for the first time, revealing reasons behind the delay in the renewal of his contract with Masandawana.
Read: Today in 2017: Sundowns hammer Pirates for 6!
The 55-year-old mentor initially revealed that the deal was 80% sealed, and that the remaining 20% was related to his own personal desire to leave a legacy for himself, children and family.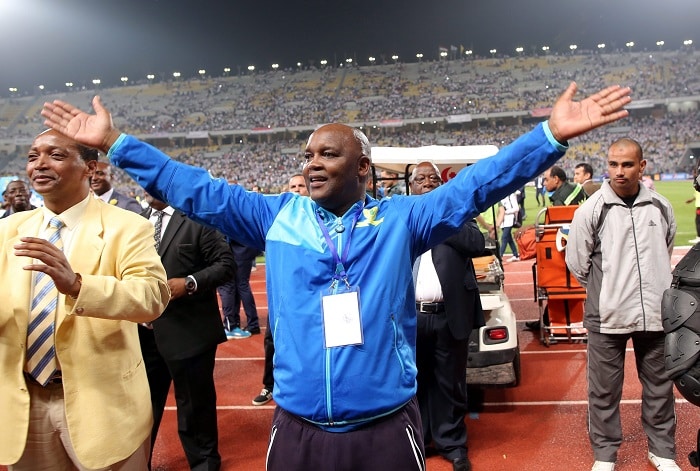 The delayed deal could see the former CAF Coach of the Year and the PSL giants together for another five years provided the two parties come to terms.
The former Bafana Bafana coach has however revealed that money was not the problem and that the issue was that he feels more drawn to youth football, and that's the very reason he wants to be involved in other projects besides coaching Sundowns' senior team.
"It's not about money but principles; 80% has been agreed on. It's about my love for youth football," 'Jingles' as affectionately known, told SundayWorld
"I want to make an impact in youth football by working with young players," Mosimane said.
"This has been sitting with me for a very long time. Everybody is speaking about youth football development. We talk about it, we know what it is but we don't know what needs to be done to take it forward."
"I'm not getting younger, I'm 55. I don't want to be remembered as that player who played good football or that successful Sundowns coach. I love youth football. I want to make the biggest contribution to our football but I don't have the money to start an academy, a foundation or anything like that.
"I want to work within the existing structures of school football. I want to leave a legacy. We have so many youth tournaments and competitions, like the Danone [Nations Cup] and many others, you can name them.
"We have many players who became big names and came from schools football and went straight to play professionally in the PSL – KK [Sono], Doctor Khumalo and many others.
"I have been keeping this thing for the past seven years [of coaching the youth]. I love Sundowns. I love the team. I want to stay. The players, the people love me.
"I just don't want to be that guy when I'm laid to rest and the people say 'he was a good coach'. I need to leave a legacy of having worked and developed the youth."
The highly-rated coach strongly believes that his intentions to get involved in youth football as a side job is not really a big issue and that it can be resolved.
"This is something I would love to be given a chance to do. The delay in concluding the contract has also been caused by the team's busy schedule. We've been to Angola, Casablanca, Algiers, the Telkom Cup and now the Nedbank Cup, the league, where the margins are getting bigger."
Also read: Pitso's contract uncertainty opens door for North African giants
It is very unlikely to have a coach managing a top-flight club like Masandawana on a full-time basis while having side jobs, however it remains to be seen if the Brazilians management will agree with Pitso on his request.