Winter may be the hardest season to dress for when the weather is literally working against you. How to stay warm but still look cute? How to layer up without looking way bigger than you are?? And with the temperature dropping, it just keeps getting triggered!
We're here to help you plan out your winter wardrobe shopping this weekend by bringing you tips direct from your faves. Today we look to the hostess with the hostess herself, Pearl Modiadie.
Back To School
This winter, the schoolgirl look has made a huge comeback. There are many styles that are on shelves this season so you can find any style that suits yours. The main trend uses tweed, like Zinhle's, but that can prove to be expensive. Instead, try the plaid dungaree style that is more affordable – and you will still be able to wear it come summer!
Beret Babe
Who says that you can't be cute in winter? Berets are a great way to add some adorable flair to your look. They are also always a major trend in winter as the superior stylish cousin to the beanie. Get them in as many different fabrics as you can afford to for optimum style.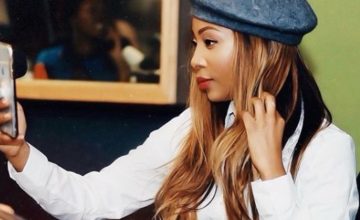 Fun Tights
Winter is a hard time to find the balance between cuteness and warmth An easy way to bring your legs with you into the winter is stocking up on tights. Get as many different colours and patterns you possibly can. In every colour, knit or opaque tights can add some flair to your look. Then layer them for guaranteed toasty legs.
Go Big or Go Home
If you're a fan of Pearl's then you know how much she loves her wigs! The good sis is about her ever-growing hair collection. This winter, take a page out of her book and get a big curly weave/wig. Not only are they nice but give an added layer of warmth.