South African winemaking has hit another milestone after 360 years of crushing grapes.
To bring that history to life, the team at Restaurant Mosaic at The Orient is in China to present some of the country's best wines at key industry events.
Wines of South Africa (Wosa) organises its annual, month-long, Discover South Africa campaign in Hong Kong to promote local wine in China. Chef Chantel Dartnall was tasked to bring a selection of wines to life.
Wosa teamed up with The Park Lane Hong Kong, a Pullman Hotel, and Dartnall to be guest chef at Skye rooftop dining last week. The choice not only heralded the country as one of the world's best wine producers – it also proved off the depth of culinary arts in the country.
Dartnall pairs wines with her own menus from the Elandsvlei-based restaurant, she also plays an important role in promoting South African wines in China. Her botanical inspiration and ability to use local ingredients is also beneficial to making a success of this sort of soiree that serves to sell the country.
The menu is a shrewd representation of the chef, wines as well as the country. Dishes included Mousse de Mer, one of Dartnall's signature dishes she presented a few years ago at the S Pellergrino Audi Chef's Cup SuedTirol in Alta Badia, Italy.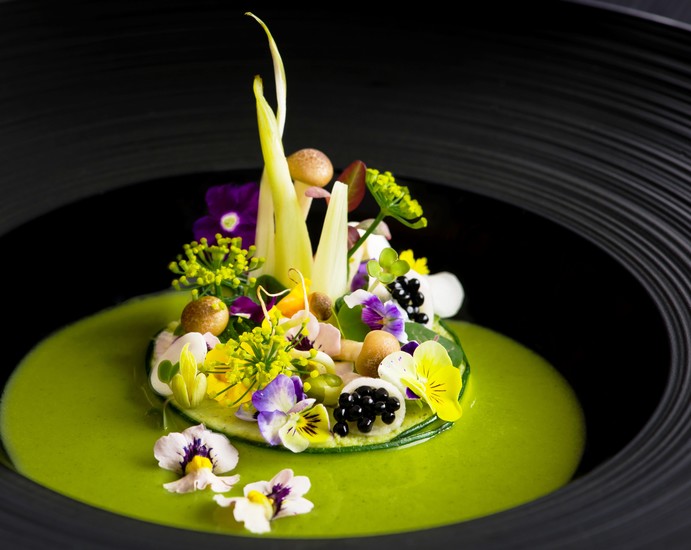 The dish consists of one of South Africa's greatest ingredients – rooibos tea – with baby langoustine and lemongrass foam.
"The team and I created a seaside scene with tomato powder and little shells," says Dartnall.
The dish was paired with Hartenberg The Eleanor Chardonnay 2015.
Some other highlights from the menu last week included African Aromas, a waterbuck fillet served with red berry jam and parsnip puree. In Hong Kong it was accompanied by the Crystallum Peter Max Pinot Noir 2016 from the Hemel-en-Aarde Valley.
"South Africa is renowned for its iconic Klein Constantia Vin de Constance, so we are serving the 2014 vintage with The Earth Laughs in Flowers, a dessert which combines passion fruit, Valrhona chocolate and violets in a riot of colour and flavour," says Dartnall.
Other South African wines showcased included Meerlust, Kanonkop, Bellingham, Ken Forrester, Villiera, Boekenhoutskloof, Thelema, Vergelegen, Radford Dale, Krone Borealis, Reyneke, Richard Kershaw, Leeuwenkuil Family Vineyards, Swartland's Porseleinberg and Nederburg.
Beyond gastronomy, Restaurant Mosaic's interesting culinary history was also on display. For the trip, special plates and cutlery was also shipped to Hong Kong.
The momentum from Hong Kong continues this week. Yesterday, the Mosaic team left Hong Kong for Macau, where Dartnall will be presenting a seven-course dinner at the Wynn Hotel, followed by a masterclass for young chefs and sommeliers.